UKGC Temporarily Suspends Matchbook's License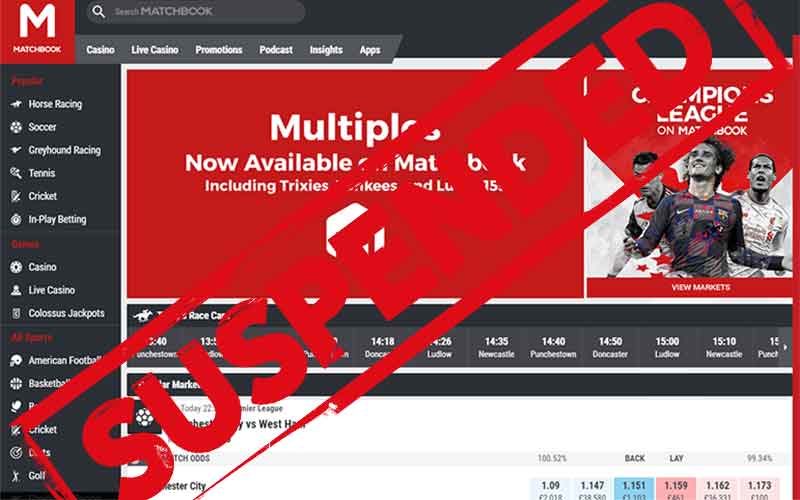 Renowned United Kingdom-based sports betting exchange operator Matchbook has recently had its gambling license in the country temporarily suspended for reasons that are yet to be revealed. The confirmation of the suspension arrived last Monday when the operator's customers reported receiving emails that informed them that the United Kingdom Gambling Commission has decided to suspend the operating license of Triplebet Ltd (t/a/Matchbook). As such, the platform would briefly close for all betting and casino activity in the UK as from 23:59 on 17 February 2020.
Despite this setback, the sports betting company has assured its customers that it has been working on a viable way forward with the gaming commission which expects it to deliver on a number of conditions before resuming operations. Thankfully, this might happen very soon since the Triplebet's license is still active on the UK Gambling Commission official gambling license registers.
In the meantime, the site's customers will still retain access to their online gambling accounts. Matchbook will continue to settle all open positions and the players will still be able to withdraw funds from their accounts on the platform.
"The temporary suspension of our UK license poses no threat to customer funds, which have been, are and will remain safe for all of our customers. Customers are able to freely withdraw their funds now and will continue to be able to do so throughout the duration of the suspension," reads an official Tweet from Matchbook.
As of now, the gambling commission has not revealed any more details regarding the matter which naturally only leaves room for speculation. More information will be available to the public in due course though.
What Could Be the Issue?
As mentioned above, the lack of detailed information on the suspension of Matchbook's license only leaves for speculations. After a little bit of digging, there are a few factors that may have led to this but one of them seems to be the most prominent and it involves Eurasia Sports, a subsidiary of Matchbook. The subsidiary was recently involved in an Irish gambling scandal and a ruling on the matter came last month.
The case was quite messy and it is possible that this raised a few eyebrows thus forcing the UK Gambling Commission to review the company. Perhaps the goal is to ensure that the scandal's impact did not affect any of the site's customers in the United Kingdom. Player protection is one of the commission's top priorities and over the past several months it has been working tirelessly to develop and implement measures in that regard.