Best Sports Betting Apps in 2023
Sports bookmakers have gone a long way since they arrived on the wire. As a nation who loves our sports and doesn't mind taking a chance on them, we are also far more likely to plonk down a quick wager on the go. But how to do so without the extra hassle of setting up a betting station on our laptop or having to carry it around?
The answer is quite simple and it lies in mobile betting. Bookies have become cognizant of the simple truth that you as customers desire a more streamlined way to manage your bankroll and bets. Taking the segment up a notch, though, you may have heard about dedicated or native applications portals have put together. Today we take a look at what makes the best betting apps just that and how to spot them for yourself.

The Best Betting Apps and Why You Should Use Them
Tapping into the potential of an app is not some whim. It's a genuine and conscious decision that you as a punter take in order to improve your gaming experience. Of course, you will need to meet some tech specifications first, but procuring a device that runs a modern Operating System (OS) is both quite easy and cheap and the chances of you already have one are significant.
Here is how a betting app helps you navigate your wagers and manage your bankroll:
You have a constant access to all your running wagers.
As a customer, you are allowed to manage your money as you see fit through the dedicated app.
An app will provide you with a direct access to the latest bonuses & promotions.
Notably, you will be able to play from anywhere in the world without losing precious data.
If we have to sum up, a good native app will pack the full functionality of the website into its streamlined design. Of course, not all apps come with every last bell and whistle, but the best ones will even feature In-Play options, which will help you never miss a moment of your favorite sporting event wherever you are!

We will focus on analysing the best betting apps on the market for you. Our experts will help you choose an app that will make your experience at a sports bookie fun and rewarding. With scrupulous attention to detail, we will teach you how to download and install your app, but also how to benefit from the brilliant bonuses available. Looking for superb compatibility and responsive software? Trust our judgement and let us pick the best betting apps for you!

Choosing the Topmost Apps and Markets
When you go out on your scavenging hunt, it helps to know what the most delightful and user-friendly apps are the ones that won't make you think much how to use them or download them. This is where we step in with our experts running an in-depth review of a software's features. And yet, we know that beyond functionality, there are more specific things that intrigue you. We mean, of course, the variety of markets.

An app, should bring you the full range of markets that you will come across on the portal of the bookmaker. The bookies we recommend for are always making sure that there is a common benchmark between the experience you have on a desktop PC and a portable device. Even more importantly, the best names in business will try to equate the experience in their land-based venues.
With this in mind, the best betting apps will also offer the largest and most varied betting markets, the same supported by your operator in any event. And there is more! Rather than having to go on and sift through an overwhelming number of markets, the app will allow you to quickly apply adjustments to your interface so that only the events you are interested in will show.

Excellent Bonuses and Delightful Promotions

Whether you play in a land-based property or decide to download a native app, you will always be on the lookout for the next decent promo that will help your bankroll grow with no expense to your funds at all. Good promotions are always there for the taking and you can in the very least benefit from a great sign-up bonus.
Bookmakers will experiment with their offer, adding event-specific deals and overall bargains that'll extend your stay with the bookie. All of these goodies will be available to you in the desktop version, but also via your mobile device which means that you will be able to look up the latest treats without any hassle at all.
The Extra Goodie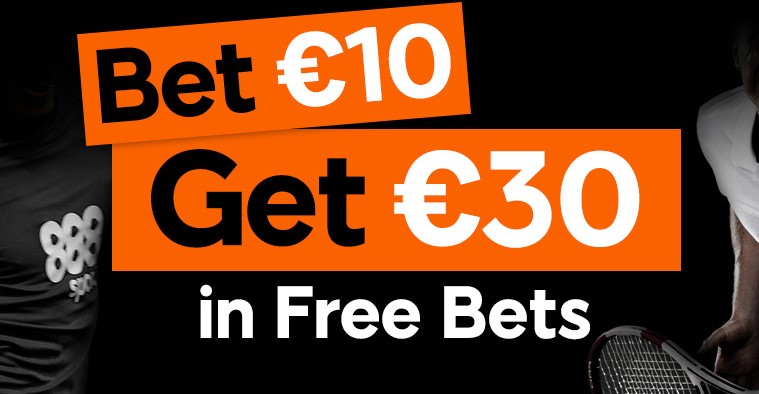 Downloading one of the best betting apps is ultimately the greatest favour you can do yourself. Quick, reliable and optimized, you will be constantly in touch with what is happening to your bets and how odds are changing. Any new treat will also be immediately accessible via your private mailbox in the app and account. And better yet – some operators will offer to entertain you to mobile-specific bonuses! Yes, installing an app could land you some extra cash, too!
Knowing a Thing or Two About Wagering Requirements
Even the best betting apps will come with promotions that are contingent upon wagering requirements. These specific conditions will tell you how you can bag your free bets. You will notice that with sports specials, the amounts are not nearly as high as with other aspects of the industry. This is done so that you as a punter may benefit from a monetary incentive without being encouraged to pursue a reckless gaming course.

Superb Compatibility
The sports betting online segment has had one clear advantage over any other divisions of the industry. Unlike, casinos, for example, bookmakers have never had to worry about compatibility much, because they have dispensed with the need to use flash. And yet, bookies are also early adopters of HTML5 in a bid to bolster their offers, strengthen security and improve the overall customer satisfaction.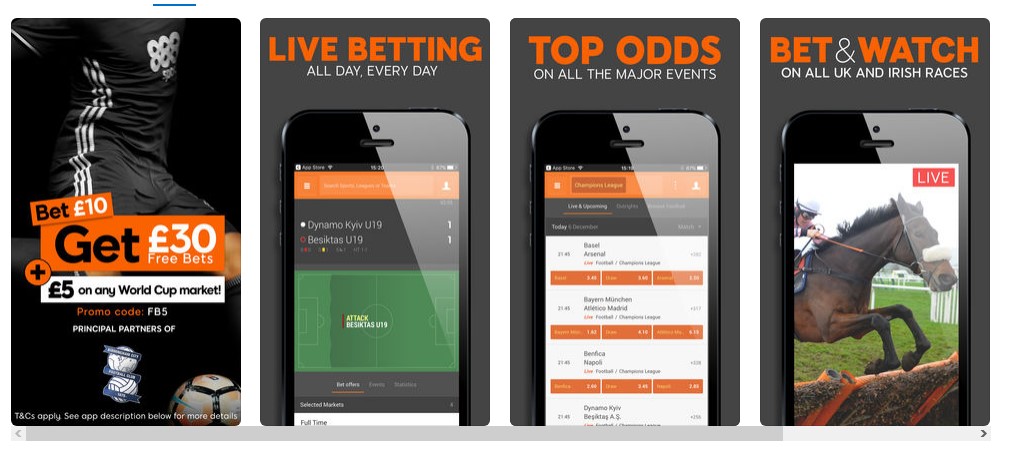 The best apps in business will be compatible with the majority of devices out there, particularly the ones that support a mainstream Operating System (OS):
Apple (iOS)
Google (Android)
BlackBerry
Microsoft (Windows)

You will find that the software brought to you by the best names in business is light, responsive and intuitive. Whatever your device, you will be able to bet on the go from your iPad, iPhone, Blackberry, or any tablet that is compatible with the outlined OS. And because sports betting hasn't got to deal with unnecessary trouble that flash occasions, the top bookies have had a chance to dedicate themselves completely to perfecting their In-Play features.
How to Download the App
Downloading an app is a fun and easy process. You can do it by looking up the name of the application in iTunes or simply visit the website and refer to the dedicated Download page. You will notice that the majority of bookies send you directly to the iTunes page for iOS. It's true, Apple have a slightly less restrictive attitude towards Google Play whereas their competitors have decided to take a more belligerent approach.
As a result, if you are an Android user, you will have to refer to a link on the website of the bookmaker you are playing with. Rest assured that it's wonderfully easy to find your way to the mobile section. Not to mention that you will feel quite content when you finally hit the download link and let the software work your magic. Punch in your account ID and you are all set!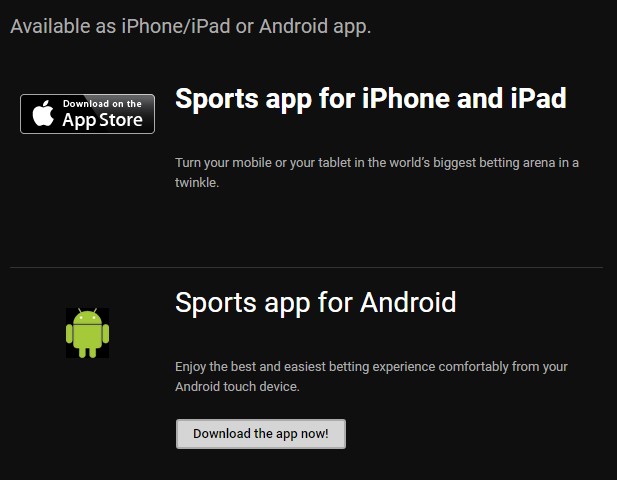 Lastly, you will notice that matters could be even more pleasant! Perhaps you are already in the habit of using the barcode-like QR images. Instead of copying a link, you can just scan this black-and-white pixelated image and enjoy yourself an immediate access to the hottest promotions.

An Honest Look at the Advantages of Download vs Non-Download Play
The best betting apps can be called just that simply because they add value to your gaming experience. So, when comparing the download versus non-download option, what should we know?
Apps are without a shade of doubt the most convenient way to experience sports betting. Even if some users have been reluctant to transition because they feared the screen size, the developers have managed to create a mobile experience that is unconstrained by the dimensions of the device you use. The upshot is that you can enjoy an authentic and expedient service without putting yourself through too much trouble.
And indeed, the download version manages to deliver on all promises for stellar betting experience without creating any confusion. Let's have a look at the advantages and perceived disadvantages a mobile app has:
| Advantages | Disadvantages |
| --- | --- |
| A convenient way to place wagers and keep track of open bets. | — |
| An excellent option to catch up on the news of the latest hour. | — |
| A compact device that allows you to manage your money well. | — |
| Fulfilling experience that helps you benefit from the full functionality of the website. | Some users may be reluctant to play on a mobile device via an app due to restricted screen space. |
To address the bugbear here, it's worth noting that a mobile app is a software that is optimised to run without a hitch across any display and device. Of course, if you like to get yourself a portable device to run the app from, you can always opt for one of the brilliant tablets on the market.
What If I Go for Non-Download?
It wouldn't hurt to tinker with all the available options and make up your mind. We stand by our opinion that the best betting apps will make your life slightly easier. But then again, the non-download bookmaker is just as easy to navigate. Why?
Your bookie needs to be prepared for the mobile-first trend that has been shaping up in recent years, so it hardly comes as a surprise that app or no app – you will experience the website the same way. Still, it's possible to have a few options fewer when it comes to customising your experience from the mobile website, but this is nothing to worry about.

Streamlined Banking Facilities
Knowing that your money is safe and yet accessible is important for every gamer. You may not want to open an account with a bookmaker unless you are guaranteed that you will have full control over how you manage your money. Running down through the list of options, you will notice that the best operators come with all the available options, including but not limited to:
Banking cards
Mobile payment solutions
E-wallets
Direct banking operations
Of course, the list could be supplemented by other ways of payment, including vouchers. In all cases, the apps we recommend will support a motley bunch of banking options that will help you move your bankroll around the way you see fit.
The Single Wallet Solution
One distinct advantage of the best operators is that they use the so-called shared or single wallet option. In other words, if at one point you are a bit jaded from your sports betting, you can visit the casino facilities and play using the same account you have opened for the sports book.
In fact, most operators are now working on an omnichannel experience, meaning that you can drop out from games and bets and come back to them, even if you are logging on from another device.

Stay Safe with the Best Mobile Apps
When picking one of the best betting apps, you are also making a choice to stay safe. At Gambling UK, we do our due diligence and provide you with the ins and outs of the apps that you will be interested in – the ones that will actually make your experience rewarding. If you want to benefit from the advantages of modern-day sports betting, we recommend that you use the knowledge you found here and spot the best apps out there! Or if you prefer, just hop back to our list of dedicated apps instead.