The online poker world is full of innumerable sites that offer players the chance to play cash games and poker tournaments. And while choice is usually a good thing, it's important to know that not all online poker rooms are created equal.
So then, how exactly do you determine which are the best poker sites to play at? If you've been playing online poker for a while, then you probably already know what to be on the lookout for. If, however, you're new to the game, don't worry. We'll show you everything you need to know so that you'll be able to find the widest selection of games, the most generous bonuses, and ultimately all the top-notch poker sites on offer.


The Most Popular Types of Online Poker
Poker games come in all shapes and sizes, and it's important to know what each one is all about. The different types of poker cater to various types of players with a range of gaming tastes, and the most popular of them are:
Texas Holdem
Texas Hold'em continues to be the most popular online poker game, and it's the one that you'll find the most tables for at any online poker site. Players are required to make the best five-card hand possible out of two hole cards and five community cards.
Omaha
Omaha poker is usually the game that players move on to if they get a little bit bored of Texas Hold'em. In this game, players are dealt four hole cards and there are five community cards. To make a winning hand, players must use exactly two of their hole cards and three of the community cards. There are many variations of this game, including Omaha Hi-Low.
7 Card Stud
7 Card Stud is a classic poker game, and it has started to become popular once again. In this variation of the game, players are dealt seven hole cards (a combination of face-up and face-down cards) and they have to make the best poker hand possible.
5 Card Draw
5 Card Draw is, by far, the easiest poker game to play and therefore is the best place to start if you're a beginner. Players are dealt five cards and can choose to discard or keep any number of them to make the best hand.
Chinese Poker
Chinese Poker is a new type of poker to emerge on the scene. It is an open-faced game in which players must arrange 13 cards into three hands. Once all players have arranged their hands, they are evaluated and the player with the best hand wins.

How to Claim Bonuses at the Best Poker Sites

Bonuses are one of the main differentiating factors for determining which sites are good and which are bad. However, don't take everything at face value as the best poker sites aren't necessarily the ones that offer the highest amount, but they certainly are the ones that offer the best value that is actually attainable.
The "catch", as they say, are the terms and conditions attached to these types of bonuses and promotions. Here, we'll go into some detail about the important wagering requirements at online poker rooms.
Any online poker promotion will come with wagering requirements attached. These are usually laid out as redemption points. To earn redemption points, you have to wager a certain amount of money. For example, you may earn 1 redemption point for every $5 you wager. If it costs 100 redemption points to clear your bonus, then you'll have to spend $500. However, the best poker sites will release your bonus to your real money account gradually, so you don't have to spend $500 all at once.

Tournaments at the Best Poker Sites
Perhaps the most exciting thing about playing poker online is the selection of tournaments that you'll be able to take part in. The best poker sites provide players with a great range of tournaments and competitions that offer them the chance to win some very impressive cash prizes.
There are some key differences between playing cash game poker and tournament poker. The first is that in cash game poker, the blinds stay the same throughout, while the blinds increase in poker tournaments every 15 minutes.
When it comes to winning, every pot that you win in a cash game has a real cash value and that money is available to you in your account. However, in tournament poker, the chips that you receive at the beginning are, essentially, play money. Only if you make it far enough into the tournament will you win any real cash.
There are several types of online poker tournaments that you can take part in:
Sit n Go: A tournament that begins when a certain number of players sign up. You won't often see more than a few hundred players in a sit-and-go, so they don't take very long to play. There is usually a set prize.
Guaranteed: The amount of prize money depends on the number of players in the tournament. The more players, the larger the prize pool.
Satellite: Instead of winning money, the top players will receive entry into a larger, more lucrative tournament.
Bounty Tournament: Players will receive a cash prize for every player that they eliminate.
Re-entry Tournament: Players are able to buy back in to the tournament if they are eliminated.
Turbo: The blinds increase at a much faster rate than in a standard tournament.
Deep Stack: Players begin the tournament with more chips than they would in a regular tournament.
Finding the Best Poker Sites
There are countless places where you can play poker online, but where are the ideal places to spend your money? It's important that you choose to play at the best poker sites that meet your specific needs while offering a high standard of customer service all around.
Firstly, you should be on the lookout for sites that have a good reputation in the industry. In addition to checking for a license in a legal jurisdiction, you should also browse forums and reviews to find out what other players have to say about the site you're thinking of joining.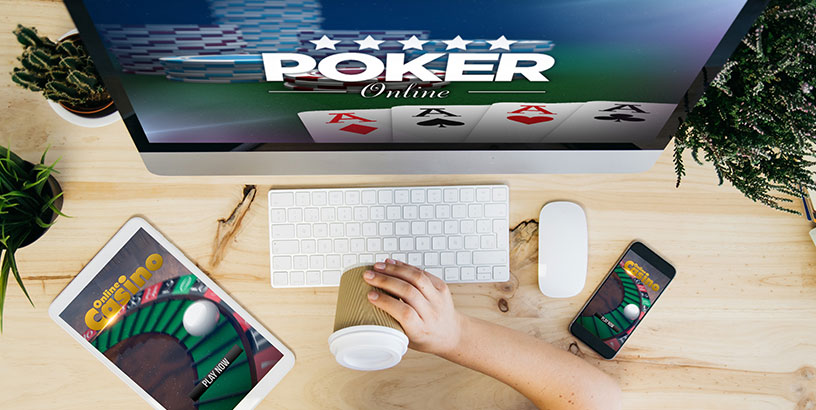 Next, take a look at the game selection. Online poker sites feature a wide range of different variations, and it's important that the games you want to play are available on those sites. So, make sure you browse the games lobby to ensure that the games you want to play are there, as well as the stakes that you feel most comfortable playing at.
Finally, there's the bonuses. All sites have them but only the best poker sites offer bonuses that are both generous and, more importantly, attainable. Look for sites that offer 100% match bonuses that will double your first deposit and, if you're a regular player, a good loyalty program is always a good call.

Playing Poker for Real Money Online
Playing poker with play money can certainly be fun, but there's no denying that the real thrill only comes when playing real money poker. You can earn some impressive prizes and flex your skills.
Like with anything real money related, there are certainly a few more variables that you need to take into consideration. For online poker, the most important factors are the deposit and withdrawal processes. Thankfully, the best poker sites not only make it easy for you to transfer your money, the transactions are processed in a timely manner so that you can start playing as soon as possible.
Depositing at Online Poker Sites
When you deposit at an online poker room, you're usually provided with several different banking options. You can use credit/debit cards, prepaid vouchers, e-wallets and bank transfers to conduct these transactions. The type of banking method that you use is entirely up to you, but debit/credit cards and e-wallets are known to be the most convenient options available to players.

To make a deposit, you'll have to visit the cashier page. Once you select "deposit" and choose your banking option, you'll be able to enter your banking details (whether that's your card number or e-wallet login) and choose how much money you'd like to deposit. There is usually a minimum deposit of $10 but this can range anywhere up to $20 – so it is important to find out whether this fits within your budget before you sign up.
Once you've made your deposit, you're all set to go. Deposits are processed instantly, so you can get playing poker right away.
Withdrawing at Online Poker Sites
When you want to withdraw cash from an online poker site, you'll likely be presented with the same methods. This time around, there are some different considerations that you should keep in mind. Withdrawals actually take longer to process than deposits, so remember that you won't always have access to your money instantly. The standard withdrawal times are:
E-wallets: up to 24 hours
Credit and debit cards: 2 to 5 days
Bank transfers: 3 to 7 days
Before you can make your first withdrawal, you'll have to submit specific documents. These are usually to prove your identity and where you live. You can scan your passport or driver's license, and a recent bank statement or utility bills. Once these documents have been reviewed and approved, you'll be able to withdraw your winnings. This process only needs to be done once.
Banking With Bitcoin
A new development in the online poker market is the use of bitcoins to play games and tournaments online. More and more of the best poker sites are now allowing players to use cryptocurrencies like Bitcoin and Ethereum to deposit and withdraw cash. Many players prefer this option because it offers more security and transactions are processed instantly.

To play at a poker site using bitcoin, first, you'll need a bitcoin wallet. The actual bitcoin website recommends a number of quality wallets and you'll be able to fund them by purchasing currency from other users or mining for it yourself (which can be quite time consuming and expensive). When you want to deposit and withdraw using bitcoin, the process is exactly the same except you'll need to input your bitcoin address key instead of your e-wallet login or your bank card number.

Is It Legal to Play Online Poker in the UK?
While the legality of poker across the world isn't always black and white, UK poker lovers are in luck. It is 100% legal to play online poker in the UK, as long as you are aged 18 or over. Of course, you also have to be playing at a legal online poker site too, which, since you've already got to this point of the guide, it should be safe to assume that you're already well equipped to find the best poker sites for UK players.