How do you pick a bookie that delivers across the board? Stellar odds, excellent mobile compatibility, the much-loved In-Play feature and markets upon markets of unending variety.
It all seems a rather overwhelming undertaking to begin with, but a quality sportsbook review will quickly have you settled. Here's the deal:
Our reviews work by providing you with genuine, truthful and honest information. We are Gambling UK and we are here to offer a much-valuable insight and help you pick only the bookies that will be worth your wagers for years to come! Longevity is our motto for the future, but we won't just snub any new bookie for lack of experience on the market.
How do we help you pick an amazing operator for yourselves? Well, it's simple:
We have created a Seal of Approval that combines all our standards;
Our experts are able to provide in-depth and comprehensive analyses;
Years of experience have taught us how to spot the choices that are worthy of your time & money;
We have a love for sports betting ourselves
Crafting a Sportsbook Review – Your Steady Guidance in a World of Bookmakers
Coming up with an easy and fun-to-read way of summing up all there is about a particular operator is certainly something we are accustomed to. Our reviewing process relies as much on gathering comprehensive and trustworthy information as the way we relate this to you.
After all, would it make any sense if we ended up gathering all the hard facts and then presenting them in a way that's not really easy to digest? With this said, we keep matters simple. Our reviewing process will focus on all main aspects of a bookmaker you may have in mind, to name:
Safety & Fairness
Markets Variety
Bonus Offers
Payment Options
Sportsbook Software
Mobile Friendliness
In-Play or Live Betting Feature
Customer Service
These are the pillars of our reviewing process. Underneath each bullet, you may find quite the vast world of facts that need to be checked & verified. Thankfully, our experts are absolutely willing to assimilate this knowledge for you and introduce it back to you in a guided piecemeal approach that helps you note down the facts without straining yourself.
And here come the facts. Our experts will cover each aspect of a sportsbook review with the utmost diligence, providing you with a level of understanding that you alone as an average punter may not achieve even after years of gameplay! We help you understand the subtler aspects to sports betting and give you all the necessary tools to craft strategies of your own and best the bookies without seeking council of others. We will help you become the self-reliant punter you have always wanted to be!

Safety & Fairness and the Best Bookies Go Hand-in-Hand!
We have decided to start by focusing on how you may choose the best operator for yourself and know that you are still safe! If may depend on the jurisdiction you reside in, and most commonly, the authorised body that certifies an operator. If you are in Great Britain, then you hardly have anything to worry about.

A number of excellent bodies ensure that sports bookies abide by the industry's benchmarks and comply with the laws put in place to protect your privacy & how you experience the segment, including:
ESSA
IBAS
GambleAaware.co.uk
Each of these organisations has their role in ensuring a risk-free environment at the sports bookie you choose and we take their recommendations very seriously when we choose to do our own research for the purpose of a sportsbook review. However, it wouldn't hurt to know what each of these institutions does in greater detail, specifically:
ESSA, short for European Sports Security Association, are the heavy guns of integrity and regulation. They busy themselves from exposing and nipping in the bud any plans to fix matches for the purpose of turning a profit.
IBAS or Independent Betting Adjudication Service is the place where you go if you suspect that your bookie has failed to keep their end of the deal.
GambleAware is an NGO that serves two purposes. First, they help gamers make informed choices. Secondly, they find people who are vulnerable to falling victim of gambling addiction, or already have, and help them get back on their feet.
How does our own reviewing process stand out? We make sure to check if the bookmaker you have chosen endorses the rules and principles these bodies have laid down.
A banner on the website doesn't stop us from double-checking with the respected authorities. However, rest assured that the true leaders among sports betting agencies will hew close to these authorised bodies.
Licensing for the Best Bookies
Naturally, we do check if a bookmaker has been licensed. We will pay particular attention to which the authorising body is and if they have listed the license on their website, as they will certainly do. Still, it may be a bit difficult to find on your own, so you can entrust our experts to sort this out for you neatly and expediently.

Sportsbook Review: Picking the Most Lucrative Markets
Today you may bet on any sport out there and to be perfectly honest, bookmakers will hardly stop there. Politics often get in the way and we have seen some pretty amusing bets in recent years. However, most of the online bets available will be somewhat carved in stone, although their expanse and reach will depend on the specific bookmakers you have chosen.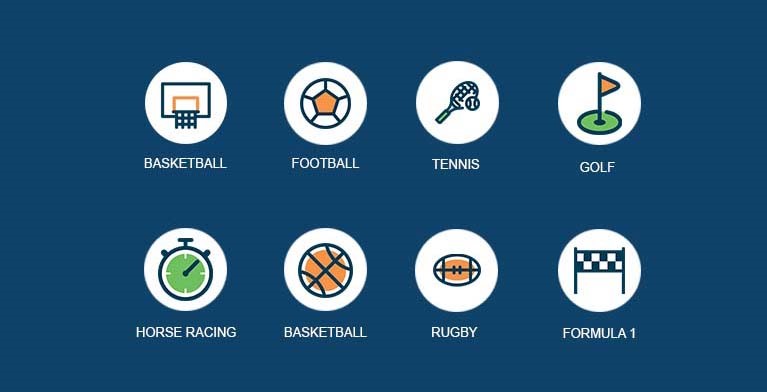 For our part, we make sure to meticulously examine the segments that generate the most excitement and appeal to the most punters. But apart from focusing on the type of sport, we pay extra attention to the particular events featured. Football apparently is a big hit, but while all bookmakers will cover the major leagues and World Cup events, other bookies focus on minor-league competitions as well.
You can expect dozens upon dozens of active wagers for each title that has a strong following. If anything, new sports have also made it to the very top of bookies' offerings. We are a bit of geeks ourselves and we will even guide you through the seemingly intricate world of electronic sports or esports.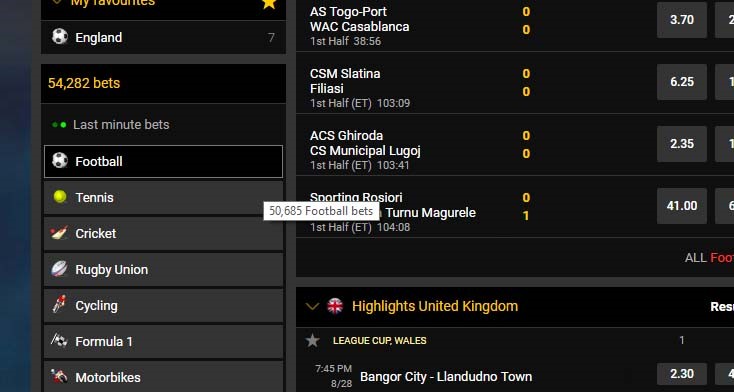 To get an idea of how popular sports betting has grown, consider that a single bookmaker could offer you as many as 50,000 available bets to pick from. Those vary in nature, of course, and you may have a number of options here:
Match bets
Future bets
Specific-result bets
In-Play bets and more
The truth is that we can't check the thousands of bets that a bookmaker puts on its shop windows, but we can test the facilities including the betting slip and cash out option available for in-play bets. The rest of the information is the result of diligent research and conscientious summarising of the facts.
The Booming Markets Not Even the Bookies Talk About
We are aware how most bookmakers conduct their business and while few will take pride in the less lucrative markets they cover, the house names we cover are rather content with themselves to offer variety, even if it would cost them a bit. Enter electronic sports or esports. Betway is one of the staunchest supporters of the market and to the bookie, it's more than a marketing stunt.

Presently, the bookie is backing two esports powerhouses and it claims that it's even raking profit on esports wagers – a segment that's contested by youthful punters with plenty of disposable income and solid knowledge of the product they are betting on.
Being somewhat of gamers ourselves and having grown up with some of the most notable competitive titles that are alive and kicking today, our team is fully-equipped to review this specific and somewhat exclusive market reliably.

Our Sportsbook Review Will Cover All Odds!
We are in the habit of keeping track of all the available odds across bookmakers. Often, in our research of a specific operator, we will make sure to run the odds across several agencies and compare the results. Of course, this could be a slightly misleading gauge, because the odds will be constantly changing, but by being diligent about your research, you could spot which bookies offer slightly better odds.
Now, when it comes to the best in business, it won't be so much a matter of 'the best all-time odds', but rather a simple matter of making sure that you have found the odds that are presently the best on the market. Mind, this may change rather quickly. Why is checking odds across bookmakers for yourself a good idea?
Tips to Beat the Bookies at Their Own Game
Compare odds between bookies by referring to our list of recommended sports books. This way you will minimise their house edge.
Make sure that you rely on traditional winner/match bets rather than putting money on exotic markets.
Only ever wager at a fraction of your total bankroll, usually between 2% and 5%.
Betting on the Go and Why Mobile Friendliness Is the Best
Making use of a mobile-friendly sports bookie is what we recommend. If a particular bookmaker hasn't ensured that there is a consistency of the experience across multiple devices, we are less likely to endorse it. Mobile solutions allow you to be constantly in the loop and place wagers without having to allocate special time of the day. It's convenient, it's reliable and it facilitates the whole process.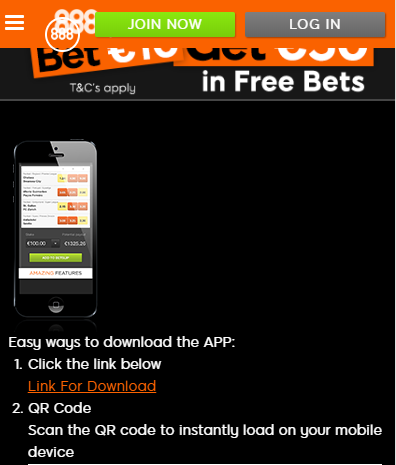 We not only check for mobile compatibility, but dig deeper and if iOS and/or Android apps are available, we have our experts download and test those. To us and to you, having a full and unimpeded access to the bookies is what matters the most.

Excellent Sportsbook Review Will Cover the In-Play Solutions
Let's face it. We love hobnobbing with our friends and almost ritually gather around our TV sets and cheer and commiserate the successes and downturns in fortune of our favourite teams. And to add to the excitement of supporting a football club, for example, bookies have come with an excellent solution! The In-Play or Live Betting feature. The majority of bookies we endorse come with some form of In-Play.
Here, the markets vary slightly more across different operators, based on the finances and resources of the specific agency. We make sure to review every aspect of the live offer and tout the success while advising you how to overcome certain challenges.
In-Play: The Good and the Bad
| Pros | Cons |
| --- | --- |
| Better profit margins if you guess correct. | Streams could be out of synch, meaning bookies will know what happens before you do. |
| Can get part of your money back if you are losing. | Carries higher overall risk. |
| Great satisfaction from getting a bet right. | — |
This pretty much summaries the advantages and snags of playing this market. Of course, as long as you don't overcommit unnecessary money, you have nothing to worry about and can indulge into it even if you are a newbie punter, especially if we have approved of the website.

Getting a Hold of a Friendly Ear
Every leader out there will have a trustworthy customer support that will make itself available 24/7 available. You can rely on multiple channels of communication, starting with a live chat on the bookie or picking up the phone and speaking with a customer care agent on the spot. Bear in mind that you can spare yourself some hassle by dropping by the FAQ section and looking up a query you may have on your mind.
Don't think that customer care is there to only solve specific problems you may have with a bet. If you suspect that you are sliding into addiction, you can seek help from the casino and they will help limit your activities and forward you to people who are qualified in dealing with such matters.

Taking Our Adieux and onto the Next Bookie
The conclusion of each of our sportsbook review is where we remind you that should you need a refresher, you will always be able to find it on our pages. We update and polish our content constantly, keeping things up to date and reliable. If you ever need a great overview of a bookmaker, you should make our website the starting point to your search. The insightful advice and reliable information in our sportsbook reviews will go a long way in helping you opt for the best operators on the market.