8 Exciting Casino Christmas Party Nights in the UK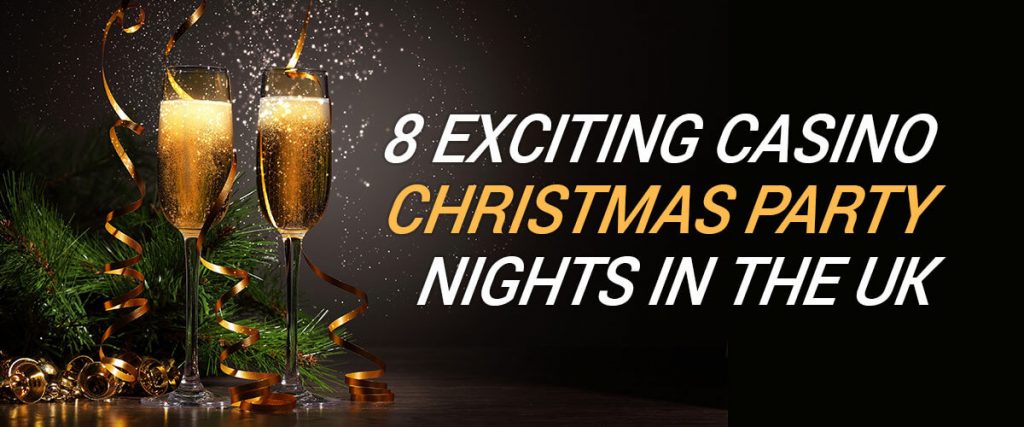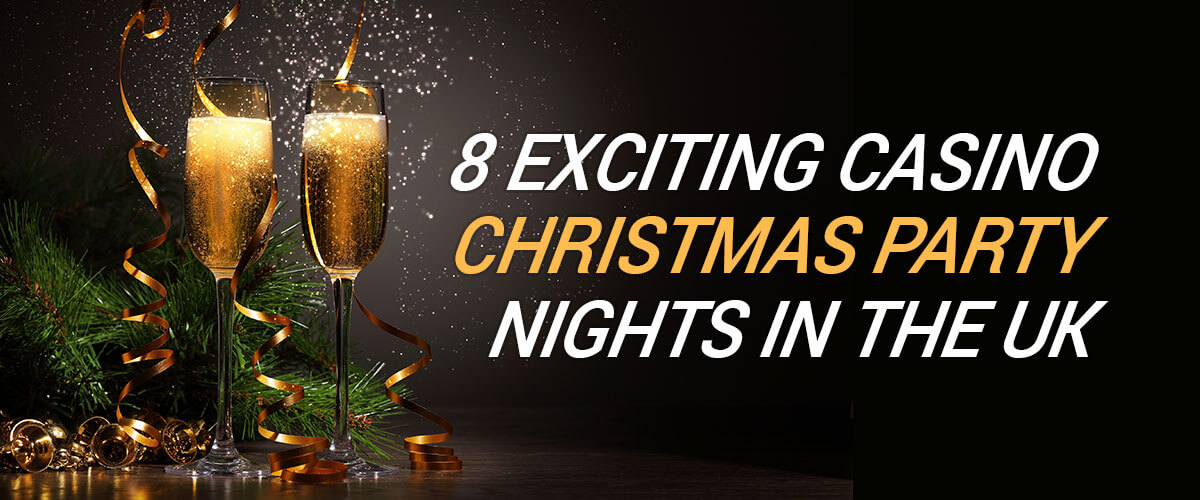 It's the time of the year when Christmas party planning is in full swing. Whether you are out hunting presents, trying to book a venue to celebrate, or convince your friends to come on a quick getaway, the excitement can be felt in the air.
Snow is falling down and colourful lights criss-cross the cities. Some of the venues that would never miss on throwing a proper blow-out during the Christmas holiday are casinos.
Today we look at some of the top Christmas party nights across the United Kingdom casinos intend to host and you DO NOT want to miss.
Grosvenor – A Proper Christmas Knees-Up
Grosvenor hasn't arrived at the top of the casino food-chain by missing out on superb chances to make casino-goers happy.
This is why the 2019 Christmas night promises to be an exceptional opportunity for all those of you who want to hit one of the 40-odd properties Grosvenor operates across the United Kingdom.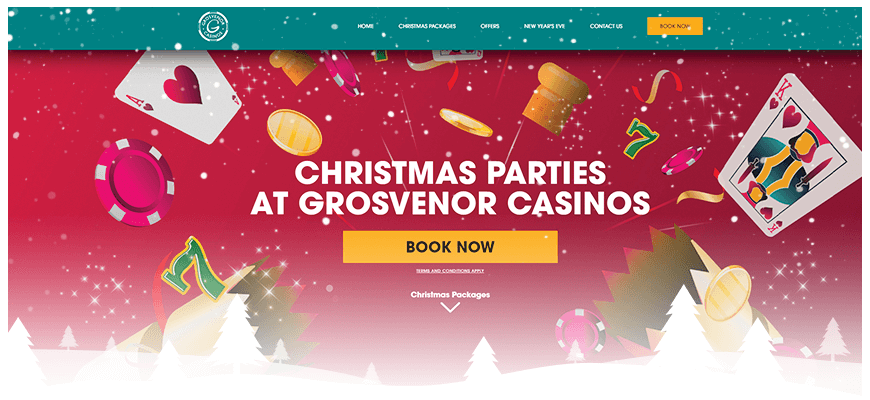 There are all sorts of goodies to enjoy there as well, starting with the festive drink deals and great opportunities to make your first bet.
You can book your own Christmas Party Package, which includes a Lucky Number, a Festive Drink and a Lucky Number Roulette Bet.
Definitely a nice touch.
There is also a tailored-promotion for New Year's Eve, so if you and your friends are down for another wild party night out, Grosvenor can definitely deliver.
In any event, you need to register to attend, so don't miss out!
Christmas at the Hippodrome
No casino would miss out on the festivities this season, and the Hippodrome Casino is no exception. If you are in London for the holiday and haven't picked a venue, you should perhaps consider the amazing West End.
And the best part? You needn't worry about a single thing as the Hippodrome Casino would provide. You are signing up for one of the biggest Christmas party nights out.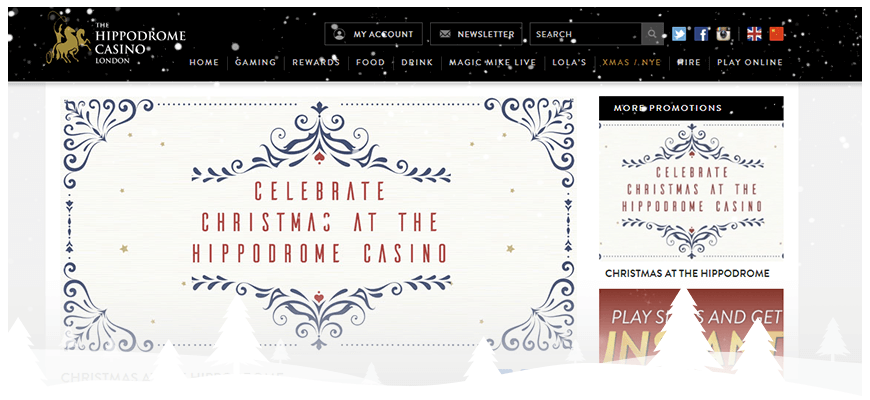 The meal will be full of tasty bites and even sweeter beverages. There are multiple events scheduled for the upcoming party, including the Magic Mike Live and the Boozy-Tea Room.
Are you looking for your special place under the stars to celebrate Christmas? You needn't worry about a thing as The Hippodrome is your go-to venue!
Rainbow Casino's Special Christmas
If you are bent on having a blast on Christmas, you definitely should consider swinging by the Rainbow Casino.
Apart from all the action-packed gaming options, there is so much more to do and enjoy there. For starters, the Christmas dinner packages are definitely something you want to look up.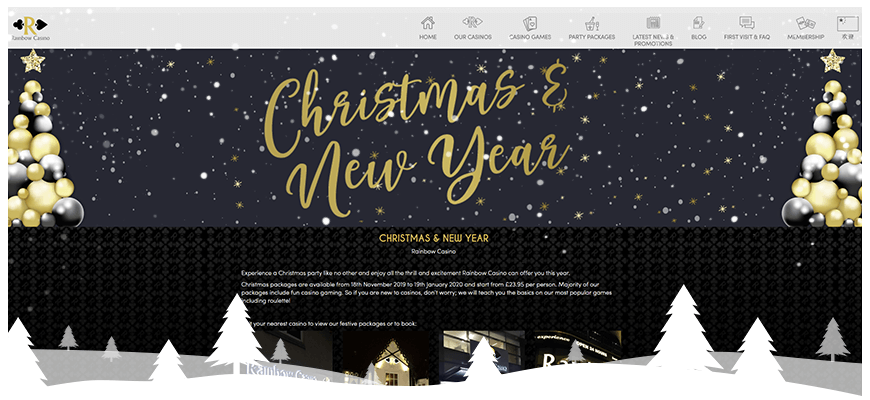 There is also the festive buffet and top it all off – drinking packages. If you aren't really into hard alcohol, you can always call up the casino and arrange a lighter selection of alcoholic of beverages for you and your friends!
Plus, you will get a token of the casino's appreciation and receive a £5 voucher you can spend on any of the casino games on-site!
The Empire Casino for a Proper Christmas Celebration
Ready to spend some time playing your favourite casino games this Christmas? Well, you should definitely swing by the Empire Casino!
All you need is available on the premises – from a delicious buffet to copious amount of soft and alcoholic drinks, to speak nothing of the Balcony Bar and its ambience.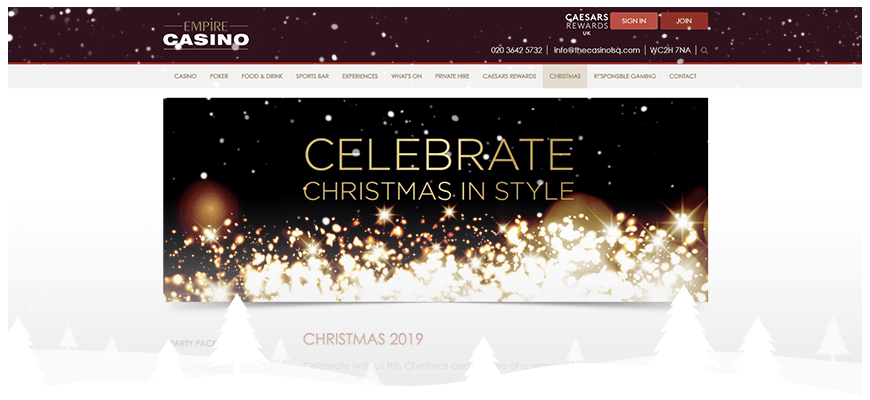 There is a whole lot to see and do there, as well! Enjoy yourself the slot galore and sit down at the tables sizzling with roulette and blackjack action.
Anyone is invited to join this Christmas bonanza – from the pros to the veterans!
Aspers' Casino Christmas Party's On!
If you happen to be in Newcastle around Christmas time, it might be a good idea to find yourself a proper venue to celebrate!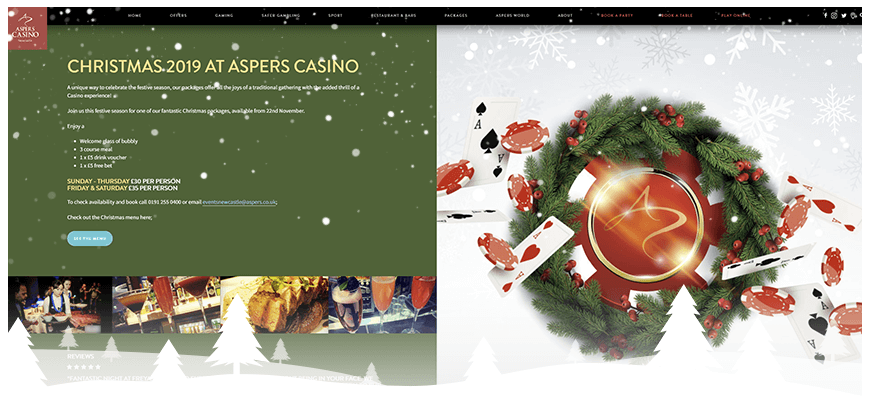 One of top venues out there is certainly the Aspers Casino which has prepared a delightful menu for those of you who want to have a good time.
You will be treated to a welcome glass of buddy, a 3-course meal, a £5 drink voucher and a £5 free bet, you can potentially turn into something bigger! You only need pay £30 to get in on the action, and the best part – the offer is available from November 22!
Sauton Sands Hotel's Take on the Christmas Spirit
The Sauton Sands Hotel definitely wants you to celebrate the right and proper way. On December 14, guests are welcome to book the 'For Your Eyes Only' party and transport themselves in the action-packed world of James Bond, the famous MI6 007.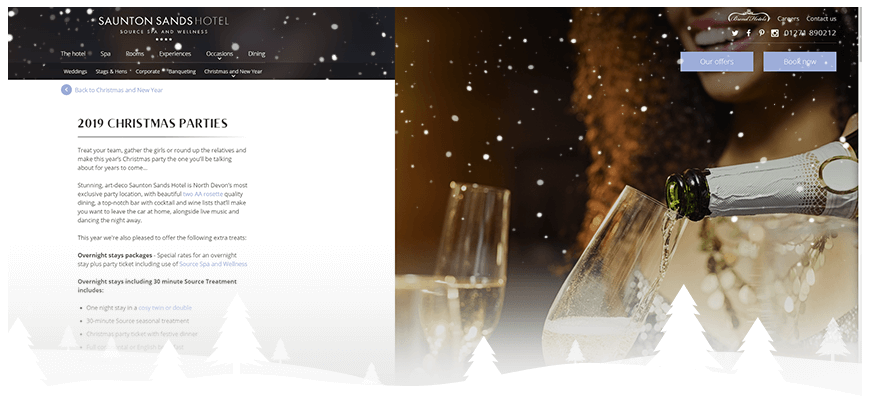 The offer will feature a casino where you can play to your heart's content before dancing the night away. The ticket costs only £40 but if you want to stay over for the night and have breakfast, you can get all three for just £120.
Meanwhile, the Sauton Sands Hotel features other various events that will offer you a chance to enjoy the casino and Christmas!
The House at Shuttleworth – Where a Proper Christmas Happens!
Interested in having a blast this Christmas? Try the Christmas Casino Party Nights that are held by The House at Shuttleworth, then!
Enjoy an action-packed event which will feature a lot of great things to see and do, such as a welcome drink, a three-course meal and a glass of wine to wash it all down.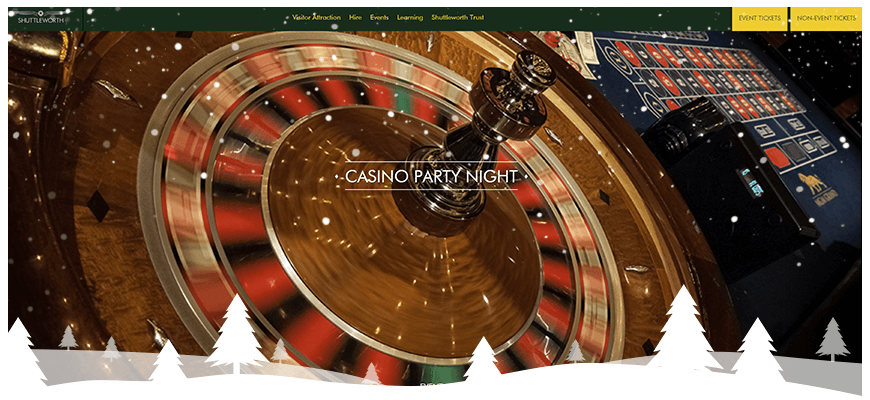 Guests will be invited to have a go at a variety of Christmas cracker and be served tea and coffee, and then – the casino tables will become available.
Whether you want to hit the dance floor, stick with the casino or sit at the bar, you have a whole lot of options ahead thanks to a well-though-through programme.
Alea Casino's Christmas Party
Some parties are small, some are big, and Alea Casino's planned Christmas meet-and-greet is designed to be special.
Here's your chance to join other people who appreciate having fun and who want to celebrate Christmas and New Year's Eve together out somewhere.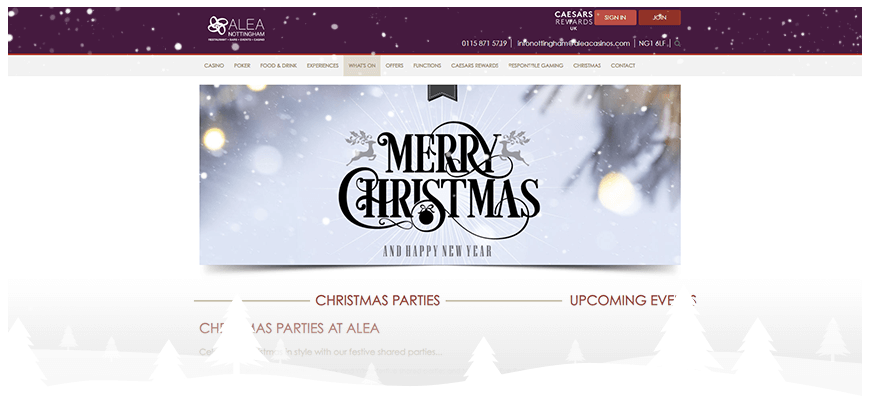 Alea Casino has prepared a Royal Casino theme to make participants' memories unforgettable and help you have the best possible experience while on site.The night at the casino will be truly special, thanks to various gambling tables, a DJ, and a dance floor that opens for you to enjoy it all throughout the night!